---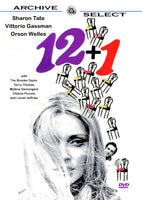 12+ 1 - Twelve Plus One (The Thirteen Chairs) 1969 DVD Color Approx. 94 min. Playable in North America (US, Canada, Mexico, etc.) Widescreen In English, no subtitles.

Starring: Sharon Tate (in her last film), Vittorio Gassman, Orson Welles, Vittorio De Sica, Tim Brooke-Taylor, Terry-Thomas, Mylène Demongeot, Ottavia Piccolo and Lionel Jeffries. Written by Marc Behm, Denis Norden, Nicolas Gessner, based on "Dvenadtsat stulyev" (The Twelve Chairs) by Ilya Ilf and Yevgeni Petrov Directed by Nicolas Gessner and Luciano Lucignani.
Mario Beretti (Vittorio Gassman) is a young Italian-American barber who runs a shop in New York City located near a construction site that boasts few customers. His life reaches a turning point when he is notified of the death of his aunt in Lavenham, England, who named him her sole heir.
Mario rushes to England and learns that his inheritance consists of not much; only thirteen antique chairs that have a certain value. He sells them to cover his transportation costs, but soon learns from his Aunt Laura's last message that inside one of the chairs is a fortune in jewels. He tries to buy back the chairs, but is unsuccessful. With the help of lovely American antiques dealer Pat (Sharon Tate), he launches a bizarre quest to track down the chairs. That takes the duo from London to Paris, then to Rome. Along the way they meet a bunch of equally bizarre characters, including Albert (Terry-Thomas), the driver of a furniture-moving van; a prostitute named Judy (Mylène Demongeot); Maurice (Orson Welles), the leader of a traveling theater company and Italian entrepreneur Carlo Di Seta (Vittorio De Sica) and his vivacious daughter Stefanella (Ottavia Piccolo).
The Thirteen Chairs  (12 + 1) was Tate's final film; many people said that she had a knack for comedy - she shines here.

* After an extensive search we found what we believe to be the best print available. We are pleased to make this available here on DVD. One should not expect re-mastered quality - but it is a treasure for those who truly wish to see this wonderful, hilarious comedy.