---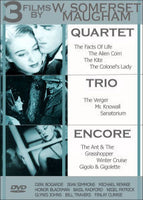 Sale
3 Films by W. Somerset Maugham - Quartet DVD - Trio DVD - Encore DVD (Region 1 - Playable in North America - The US, Canada, Mexico, etc.) Black & White. Three Disc Set. Restored.
Starring: Jean Simmons, Dirk Bogarde, Glynis Johns, Michael Rennie, Basil Radford, Finlay Currie, Honor Blackman, Bill Travers.
 A brilliant collection of three films based on the works of W. Somerset Maugham. Each is an anthology of tales with sterling performances by the finest actors of the day, filled with sharp writing and insight that touches and resonates today more than ever. The author introduces each story in his inimitable ironic style.
 Quartet was the first in the series, released in 1949 and comprised of four short stories: In "The Facts Of Life" a conservative father attempts to veer a reckless son away from an apparent addiction to gambling, money-lending, and the wiles of women. "The Alien Corn" is a profound and shattering tale of a young aspiring musician who aspires to be a world-class musician and break the restraints and expectations of his wealthy family. "The Kite" recounts the struggles of a young man browbeaten by his shrewish mother before trading her in for a shrewish wife. Can he escape this cycle? "The Colonel's Lady" unfolds as the aging Colonel steams with jealousy of a collection of love sonnets recently published by his wife.
 Trio was the first sequel film, released the following year in 1950 and comprised of three short stories: "The Verger" begins as a verger loses his post after many years due to his illiteracy. This forces him to go into business for himself which leads to unforeseen and ironic results. "Mr. Knowall" features the unpredictable adventures of an obnoxious jeweler aboard a holiday ship. "Sanatorium" chronicles the crossed lives of patients at a tuberculosis sanatorium - and two who fall in love.
 Encore, released in 1951, was last in the trilogy with another set of three tales: "The Ant And The Grasshopper" deals with a man who constantly borrows money from his wealthy brother until fate deals him a cockeyed hand. In "Winter Cruise", passengers on a cargo ship are driven to distraction by the chattering of an annoying spinster until an affair is arranged with her porter. "Gigolo and Gigolette" are a high-wire artist - and his desperate wife who gambles with their life savings trying to win enough for him to give up the dangerous act.
 A cornucopia of thoroughly entertaining stories crafted like small treasures. Do not miss this one-of-a-kind collection.