---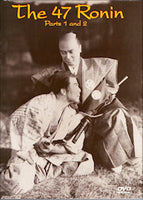 Sale
The 47 Ronin (Part 1 & 2) (1941) DVD (Region 1 - Playable in North America - The US, Canada, Mexico, etc.) Black & White. Beautifully re-mastered.
Starring: Yoshizaburo Arashi, Utaemon Ichikawa, Daisuke Katô, Chojuro Kawarasaki, Kunitaro Kawarazaki.
Lord Asano resists a bribery attempt by a member of the Shogun's court. His honesty, however, is useless against the corruption of the administration, and he is forced to commit harakiri. His samurai retinue are dispersed as masterless ronin. The leader of the samurai, Oichi, plots with a loyal band of ronin to seek revenge for their master's dishonor.
Produced over a two-year period, Kenji Mizoguchi's definitive 1941 version of the oft-filmed Seika Mayama story The 47 Ronin was too big to be confined to a single film. Thus, it was released in two parts, each running between 105 and 115 minutes.