---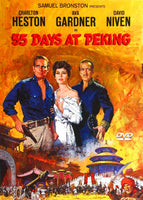 Sale
55 Days At Peking 1963 DVD (Region 1 - Playable in North America - The US, Canada, Mexico, etc.) Widescreen. Color.
Starring: Charlton Heston, Ava Gardner, David Niven, Flora Robson.
During the 1900 Boxer Rebellion against foreigners in China U.S.Army Major Matt Lewis aided by British Consul Sir Arthur Robertson devises a strategy to keep the rebels at bay until an international military relief force arrives.
Diplomats, soldiers and other representatives of a dozen nations fend off the siege of the International Compound in Peking during the 1900 Boxer Rebellion. The disparate interests unite for survival despite competing factions, overwhelming odds, delayed relief and tacit support of the Boxers by the Empress of China and her generals.
"A handful of men and women held out against the frenzied hordes of bloodthirsty fanatics!"