---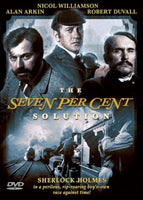 Sale
The Seven Per-Cent Solution 1976 DVD (Region 1 - Playable in North America - The US, Canada, Mexico, etc.) Color. Widescreen.
Starring: Alan Arkin, Nicole Williamson, Robert Duvall, Vanessa Redgrave, Laurence Olivier.
Sherlock Holmes (Nicol Williamson) becomes a patient of Sigmund Freud (Alan Arkin) in this stylish interpretation of the great sleuth by director Herbert Ross. Worried that his great friend's cocaine addiction is deepening, Dr Watson (Robert Duvall) dupes Holmes into travelling to Vienna to receive treatment at the hands of the great Austrian psychoanalyst. While Freud tries to find a way into Holmes' subconscious, the great detective busies himself by taking on a case involving the disappearance, and possible kidnapping, of ex-addict actress Lola Devereaux (Vanessa Redgrave).