---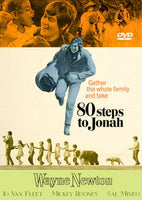 80 Steps to Jonah 1969 DVD (Region 1 - Playable in North America - The US, Canada, Mexico, etc.) Color. 
Starring: Wayne Newton, Mickey Rooney, Jo Van Fleet, Sal Mineo.
Nevada police take into custody drifter Mark Jonah, although he claims he was an innocent hitchhiker after the crash of a stolen car in which hoodlum Jerry Taggart is killed. Mark escapes and accidentally takes refuge in a summer camp for blind children.The youngsters sense Mark's gentleness, learn to love him and soon they are following him everywhere as their Pied Piper figure.
A beautiful musical film for the entire family.