---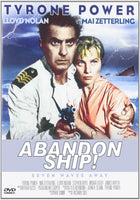 Sale
Abandon Ship (Seven Waves Away) 1957 DVD (Region 1 - playable in North America - The US, Canada, Mexico, etc.) Black & White.
Starring: Tyrone Power, Mai Zetterling, Stephen Boyd.
 After the massive luxury liner the Crescent Star sinks into the ocean, the ship's officer (Tyrone Power) must command a rickety life boat, built for only nine, that is stuffed with 20 desperate and injured passengers. As a hurricane approaches, and the many wounded passengers struggle for life, difficult life and death decisions must be made about who will remain on the boat and who must be cast to the sea in order to give others the chance to survive.