---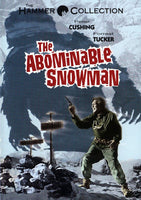 Sale
The Abominable Snowman (1957) DVD (Region 1 - Playable in North America - The US, Canada, Mexico, etc.) Black & White. Digitally re-mastered.
Starring: Forrest Tucker, Peter Cushing, Maureen Connell.
British scientist John Rollason (Peter Cushing) is studying plants in the Himalayas with his wife (Maureen Connell) while he waits for his American associate, Tom Friend (Forrest Tucker). When Friend arrives, Rollason accompanies him on a trip to find the mysterious creature Yeti, along with Friend's partner (Robert Brown) and a guide (Michael Brill) who claims he can find the beast. The group proceeds despite warnings. However, the trip quickly becomes more dangerous than they had anticipated.
Derek Hill of the Evening Standard found it to be "among the best of British science-fiction thrillers".
WE DARE YOU TO SEE IT ALONE! Each chilling moment a shock-test for your scare-endurance!!