---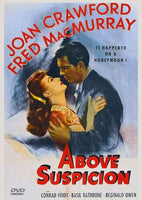 Sale
Above Suspicion (1943) DVD (Region 1 - playable in North America - The US, Canada, Mexico, etc.) Black & White.
Starring: Joan Crawford, Fred MacMurray, Conrad Veidt, Basil Ratherbone.
Just before World War II, distinguished professor Richard Myles (Fred MacMurray) and his lovely bride, Frances (Joan Crawford), prepare to leave Oxford for a relaxing honeymoon in the German countryside. But when the British secret service catches wind of their plans, the couple is unwittingly inducted into the dangerous world of espionage. Richard and Frances struggle to complete their assignment: to find a mysterious and crazed Nazi scientist hell-bent on destroying the mighty British navy.