---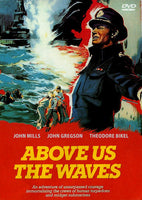 Sale
Above Us the Waves 1955 DVD (Region 1 - Playable in North America - The US, Canada, Mexico, etc.) Black & White.  
Starring: John Mills, John Gregson, Theodore Bikel, Donald Sinden.
During World War II the Royal Navy is concerned about constant attacks on convoys by German submarines and having to keep "half the fleet" watching for the German battleship Tirpitz.The Tirpitz is 60 miles from the sea inside a Norwegian fjord and attempts by the Royal Air Force to sink her have failed. Commander Fraser (John Mills) is determined to prove that an attack by human torpedoes is practical, despite skepticism from the higher echelons that such an operation would be feasible.
"The Factual Story of One of the Most Daring of Heroic Exploits of World War II...Becomes One of the Most Exciting Movies You've Ever Seen!"