---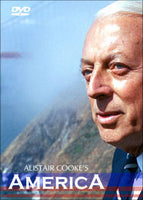 Sale
Alistair Cooke's America - DVD (Region 1 - Playable in North America - The US, Canada, Mexico, etc.) 4-Disc Set. Color. Alistair Cooke.
The classic documentary series first broadcast in 1972-3. Over 13 leisurely hours, Alistair Cooke narrates a "personal history" of his adopted country, beginning with his own arrival as a fresh young Cambridge graduate in the 1930s before taking us back to the very foundations of America, its colonization, the war of Independence (told in an admirably non-partisan way) and so on through momentous and turbulent decades right up to the early 1970s, where Civil Rights and protest movements are high on the agenda.
Throughout, Cooke interweaves anecdotes and digressions into the main narrative, charming the viewer with his storytelling precisely in the manner so beloved of listeners to his admirable Letter from America. By the end he has a warning that, although delivered in 1973, remains as telling today as it did then: America, like Ancient Rome as depicted by Gibbon in his Decline and Fall, stands poised between its remarkable vitality and its equally remarkable capacity for decadence. Whether, like Rome, the USA becomes a victim of its own internal divisions or somehow manages to pull back from the brink still remains to be seen.
Nominee for a Golden Globe Award: "Best TV Show - Drama"
Winner Primetime Emmy Award: "Outstanding New Series"
Winner of two BAFTA awards.
Winner of The Western Heritage Award.