---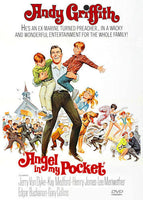 Sale
Angel in My Pocket DVD 1969 (Region 1 - Playable in North America - The US, Canada, Mexico, etc.) Color.
Starring: Andy Griffith, Jerry Van Dyke, Kay Medford, Lee Meriwether, Edgar Buchanan, Gary Collins.
After minister Sam Whitehead (Andy Griffith) moves to his new post in a small Kansas town, he finds that the place is in total gridlock because of a feud between the families of Mayor Will Sinclair (Henry Jones) and his rival Axel Gresham (Edgar Buchanan). Meanwhile, Sam's reckless brother-in-law, Bubba (Jerry Van Dyke), turns the church boiler into an alcohol still. Sam is ready to quit when his friend Art (Gary Collins) decides to enter politics in order to change the town for the better.
"He's an Ex-Marine Turned Preacher...who has his hands full with moonshine in the church basement...ghosts in the cemetery...and the wackiest family ever!"