---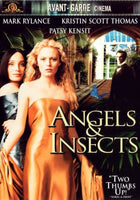 Sale
Angels and Insects (1995) DVD (Playable in North America - The US, Canada, Mexico, etc.) Widescreen Color 117 min. approx. Close-captioned.
Starring: Mark Rylance, Kristin Scott Thomas, Patsy Kensit, Jeremy Kemp, Douglas Henshall Directed by Philip Haas. Written by: Writers: Philip Haas, Belinda Haas, A.S. Byatt
Mark Rylance, Kristin Scott Thomas and Patsy Kensit star in this "mesmerizing" (The New York Times) story of a scientist who marries the woman of his dreams only to find himself entangled in a nightmarish web of dark intrigue and shocking secrets! With stunning performances and breathtaking visuals, Angels and Insects is "tantalizing, hypnotic and seething with sexuality" (Playboy).
Taken in by a wealthy family after a failed expedition to the Amazon, biologist William Adamson (Rylance) wins the hand of his benefactor's daughter (Kensit) and believes his dreamsof fame and fortune may finally come true. But a servant (Thomas) has secret knowledge about his new family, and his visions of grandeur tarnish in light of an erotic decadence and illicit passion beyond his darkest fears.
"An Elegant Seduction. An Erotic Deception. A Stunning Revelation."