---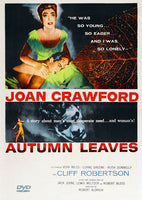 Sale
Autumn Leaves 1956 DVD (Region 1 - Playable in North America - The US, Canada, Mexico, etc.) Black & White.  
Starring: Joan Crawford, Cliff Robertson, Vera Miles, Lorne Greene. Directed by Robert Aldrich.
Spinsterish Millicent "Millie" Wetherby (Joan Crawford) works at home as a self-employed typist. One evening in a diner, she meets a lonely Army veteran named Burt Hanson (Cliff Robertson). They share a romantic date at the beach, kissing amidst the crashing waves, but Millie tells Burt to date someone his own age. A month later, Burt is waiting for the still-lonely Millie at her home and the two celebrate his new job at a department store. He proposes to her in a movie theater, and while she initially rejects the proposal, she reconsiders when she sees him walking away. As Burt successfully woos her and wins her hand in marriage, rumors begin to surface that Millicent's newfound beau is in fact a deranged maniac. Things grow even more complicated for Millicent when a woman (Vera Miles) claiming to be Hansen's first wife shows up. As Burt begins to lose control of himself, Millicent ponders the most radical of actions against her husband.

In 1956 Robert Aldrich won the Silver Berlin Bear at the Berlin International Film Festival as Best Director.

"The only trouble is that the future comes so much sooner than it used to."