---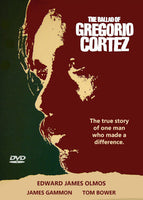 Sale
The Ballad of Gregorio Cortez 1982 DVD (Region 1 - Playable in North America – The US, Canada, Mexico, etc.) Color. Full Frame.
Starring: Edward James Olmos, Tom Bower, James Gammon, Bruce McGill, Brion James. Based on "With His Pistol in His Hand" by Americo Paredes.
Probably the most authentic Western ever made, this gripping adventure film recounts the true story of the largest manhunt in Texas history. In June 1901, six hundred Texas Rangers chased Gregorio Cortez, a Mexican-American ranch hand, for eleven days across 450 miles of terrain. Was Cortez a cold-blooded killer or an innocent man fleeing injustice? You decide.