---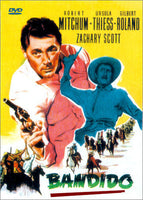 Sale
Bandido 1956 DVD (Region 1 - Playable in North America – The US, Canada, Mexico, etc.) Color.  
Starring: Robert Mitchum, Ursula Thiess, Gilbert Roland, Zachary Scott.
An American arms dealer, Wilson (Robert Mitchum), journeys south of the border during the Mexican Revolution and immediately sparks trouble when he provokes federal troops. His actions impress the revolutionaries, whom he joins forces with, and Wilson convinces his new allies to go after a rival arms dealer named Kennedy (Zachary Scott). When Wilson falls for Kennedy's wife, Lisa (Ursula Thiess), and the revolutionaries eventually turn on him, the gunrunner finds himself in the line of fire.
The film, set in the Mexican Revolution and filmed on location around Acapulco, was written by Earl Felton and directed by Richard Fleischer. Robert Mitchum also co-produced the film through his DRM Productions company.
"The 'Contraband King" in a blazing war of Revolt!"