---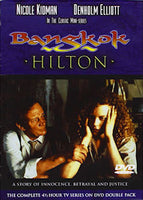 Sale
Bangkok Hilton 1989 DVD (Region 1- Playable in North America – The US, Canada, Mexico, etc.) 2 Disc set. Color. 273 Minutes.
Starring: Nicole Kidman, Denholm Elliott, Hugo Weaving, Joy Smithers.
All six episodes of the Australian mini-series, BANGKOK HILTON stars a pre-Hollywood Nicole Kidman. Katrina (Kidman) who is determined to track down her father (Denholm Elliott) after she discovers that her family's claims that he is dead are untrue. Travelling to London to meet his family, she discovers the dark past that had led him to be written out of her history. Undeterred, she follows a lead to Thailand with a new lover in tow, but a disastrous chain of events leads to her imprisonment. Her only hope lies in the efforts of her father, now a washed-up lawyer in Bangkok, to secure her release.
Region One. North American Format. Best In The Web.