---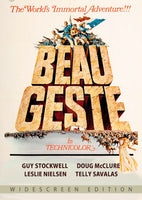 Sale
Beau Geste (1966) DVD (Region 1 -Playable in North America – The US, Canada, Mexico, etc.) Color. Widescreen. Beautifully re-mastered.
Starring: Guy Stockwell, Doug McClure, Leslie Nielsen, Telly Savalas, Leo Gordon.

After his business partner embezzles funds, American Beau Graves (Guy Stockwell), innocent of the crime, takes the fall. To avoid capture, Graves joins the French Foreign Legion on a deployment to North Africa and is stationed at a desert fort. Commanders of the fort, Lt. De Ruse (Leslie Nielsen) and Sgt. Maj. Dagineau (Telly Savalas) have greatly different approaches -- Dagineau is known for his brutality. Eventually, Graves' brother (Doug McClure) joins him, but his plight only worsens.
"The World's Immortal Adventure!"