---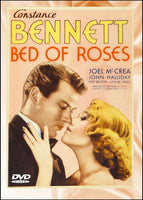 Sale
Bed of Roses (1933) B&W Approx. 70 min. DVD (Region One - Playable in North America – The US, Canada, Mexico, etc.) Pre-code. 
Starring: Constance Bennett, Joel McCrea, Pert Kelton, John Halliday and Franklin Pangborn. Written by: Wanda Tuchock, Gregory LaCava, Eugene Thackrey. Directed by Gregory LaCava.
Lorry (Constance Bennett) and Minnie (Pert Kelton) portray a pair of rollickingly wanton prostitutes who occasionally get hapless male admirers drunk before robbing them. After being released from a Louisiana jail they head downriver on a steamboat. Lorry steals $60, and when she is cornered, she jumps ship. She is rescued by cotton barge skipper Dan (Joel McCrea) but she robs him, too. In New Orleans, she tricks publishing magnate Stephen (John Halliday) into getting drunk and blackmails him into lavishly providing for her. She returns to the cotton barge and repays Dan his "loan" and they fall in love.
"Miss Bennett's acting makes her rôle much more interesting than it might have been in less talented hands. Mr. McCrea is ingratiating and susceptible as the barge captain." – New York Times