---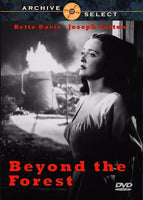 Sale
Beyond the Forest (1949) DVD Region One (Playable in North America – The US, Canada, Mexico, etc.) B&W Rare find!

Starring: Bette Davis, Joseph Cotten, David Brian & Ruth Roman Written by Lenore J. Coffee Music by Max Steiner Directed by King Vidor
Rosa Moline (Bette Davis) is the dissatisfied, restless wife of Lewis, a small-town Wisconsin doctor (Joseph Cotton). She is easily bored, uninterested in her husband's career or in anything to do with her current circumstances. She has long desired a glamorous life, in a world where she can have expensive things and meet truly interesting people. For over a year, she has been having an affair with Neil Latimer (David Brian), a Chicago businessman who owns the local hunting lodge. Tired of waiting for him to ask her to marry and move to Chicago, Rosa extorts money from Lewis' patients - who often do not have cash but pay him in produce or in other non-financial ways - to finance her trip to the city.
Lewis does not yet know about the affair, but he is used to his wife's unease with her life; he discovers the extortion and throws the cash at her, telling her that if she goes to Chicago, she need not come back. Rosa immediately leaves and fully expects Latimer to welcome her. However, he avoids her at first, then when he does meet her, he tells her he is love with another woman and intends to marry. Devastated, Rosa returns to Wisconsin, where Lewis forgives her. She soon becomes pregnant and, briefly, seems to be trying to settle down. But not for long…
A narrator introduces the character of Rosa  as "evil," a suspect in a manslaughter trial. The film, in flashback, tells the events that led up to Rosa's murder trial, the context for her "evil" reputation, and the events that led up to the accidental murder.
"This is the story of evil. Evil is headstrong. It is puffed up. For our soul's sake, it is salutary for us to view it in all its ugly nakedness once in a while. Thus, may we know how those who deliver themselves over to it end up like the scorpion, in a mad frenzy stinging themselves to eternal death."
"Nobody's as good as Bette when she's bad!"
"What a dump!"