---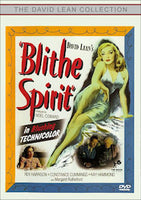 Sale
Blithe Spirit 1946 DVD (Region 1 - Playable in North America - The US, Canada, Mexico, etc.) Color.
Starring: Rex Harrison, Constance Cummings, Kay Hammond, Margaret Rutherford.
Noel Coward's favourite play, Blithe Spirit, was certainly a departure for David Lean, best known at the time for adapting Dickens. While it's the director's only comedy, the result is a delightful gem. Rex Harrison is an acerbic author haunted by the ghost of first wife Elvira (Kay Hammond), who tries to seduce him all over again. This throws his second wife (Constance Cummings) into a panic, second-guessing her lack of passion. It's a celestial sex romp that hasn't lost its bite. Margaret Rutherford, as always, steals the show as the sardonic medium.
"When we are young We read and believe The most Fanastic Things When we grow older and wiser We learn, with perhaps a little regret, That these things can never be."