---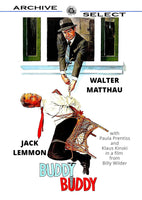 Buddy Buddy 1981 DVD Widescreen (2.35:1) Color Approx. 91 min. Playable in North America – the US, Canada, Mexico, etc.
Starring: Jack Lemmon, Walter Matthau, Paula Prentiss, Klaus Kinski, Dana Elcar, Ed Begley Jr. Written by Billy Wilder and I.A.L. Diamond, based on the play and story by Francis Veber Directed by Billy Wilder (his last feature film)
During a high profile Mafia testimony case in California's Riverside County, a hired killer (Walter Matthau) checks into a hotel room near the courthouse, while his depressed next-door neighbor (Jack Lemon) wants to commit suicide due to marital problems.
Walter Matthau plays the professional killer, going by the name of Trabucco, who is on his way to rub out gangster Rudy 'Disco' Gambola (Fil Formicola), set to testify against the mob. As Trabucco heads off to a hotel across the street from the courthouse where he plans to set his hit, he runs into the depressed Victor Clooney (Jack Lemmon), who laments the fact that his wife (Paula Prentiss) has left him for the head of a weird sex clinic (Klaus Kinski). Trabucco walks right by the suicidal Clooney and sets up his rifle in his hotel room. He is disturbed by Clooney trying to hang himself in the hotel bathroom and tries to stop him by tying him up, but Clooney breaks loose and climbs onto the ledge of the hotel window. To get Clooney to come back in, Trabucco agrees to drive him to the clinic to see his wife. The two go to the clinic where Victor's wife Celia informs Victor that she is in love with the head of the clinic, Dr. Zuckerbrot. When Clooney finds out that Celia is filing for divorce, he heads back to the hotel to kill himself – again - with Celia and Dr. Zuckerbrot in pursuit.
As if Billy Wilder sensed that BUDDY BUDDY would ultimately turn out to be his final feature film, he lets loose scatter-shot stingers at a wide range of pop-culture targets -- from sex clinics, to 60 Minutes, to movie references, to disco, to Betamax video recorders. One for the ages.