---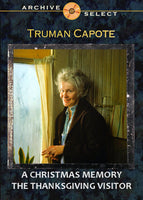 Sale
A Christmas Memory DVD / The Thanksgiving Visitor DVD (1966/1967/Region 1) in Color!
Starring: Geraldine Page, Donny Melvin.

Geraldine Page (in an Emmy-winning performance) stars in the original versions of Truman Capote's holiday classics. A Christmas Memory recalls the child Buddy and his friend from long ago, the aging but wide-eyed innocent Sook . She takes Buddy roaming in search of pecans, candied cherries, and moonshine to make fruitcakes as gifts for all their friends and relatives. Despite the hardships of rural Alabama, they share a special bond as the season grows bright and merry with meager means. They not-so-secretly fashion gifts for each other, but none more precious than their love and companionship. The follow-up story, The Thanksgiving Visitor, finds Sook and Buddy struggling to realize their many blessings when a schoolyard bully makes an unexpected appearance.
"The very best there is!"