---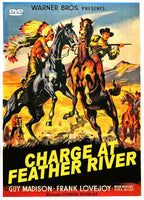 Sale
Charge at Feather River 1953 DVD (Region 1 - Playable in North America - The US, Canada, Mexico, etc.) Color.  Full Frame. Newly reduced price - for a limited time only!
Starring: Guy Madison, Vera Miles, Frank Lovejoy.  Directed by Gordon Douglas.

The story involves an overland journey through hostile Cheyenne territory to rescue two white women captured by the Cheyenne. One has turned renegade and is not anxious to be rescued as she is about to be married to Chief Thunder Hawk. Jennie McKeever (Vera Miles) dies and the cavalry comes to the rescue in the nick of time by a stream called The Feather River. Knives, arrows, spears and tomahawks all come flying at the audience. Sgt. Charlie Baker (Frank Lovejoy) discourages a rattlesnake with tobacco juice and even gets off a shot into the audience.
"Out of the West's Indian country of 1869... and right to you! The dazzling color, the grandeur, the dauntless courage, as close as if you were there.."