---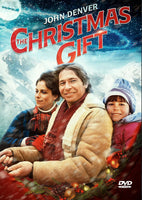 Sale
The Christmas Gift (1986) DVD Color. Shown in original aspect ratio (4:3) Approx. 94 min. With optional English subtitles.
Starring: John Denver, Jane Kaczmarek, Gennie James, Edward Winter, Pat Corley, Mary Wickes, Kurtwood Smith, James T. Callahan Written by Jeb Rosebrook, Screenplay by Chris Grabenstein and Ronald Venable. Directed by Michael Pressman.
A widowed New York City architect (John Denver) and his young daughter (Gennie James) take a working Christmas vacation and end up in a small mystical town in Colorado where everyone believes in Santa Claus.
* Customer review: "Beautifully done! This movie is one for your Christmas collection. I had never forgotten this movie over the years. When I found it was available on DVD I had to buy it. It's one of the most charming Christmas movies I've ever seen. It teaches us what Christmas is really all about... friends, family, and coming together to help a neighbor! Plus this little town has a little light-hearted mystique too, including Santa Claus! It is absolutely a must see film for the whole family."