---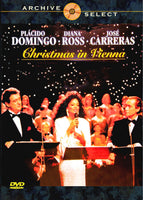 Christmas in Vienna (DVD) 1992 Widescreen Color Approx. 1 HR Region One - Playable in North America - the US, Canada, Mexico, etc.

A concert in Vienna with Diana Ross, Placido Domingo and Jose Carreras with a performance by the Vienna Symphony Orchestra, conducted by Vjekoslav Sutej. Recorded at the Vienna Rathaus in December 1992. Music arranged and adapted by Lalo Shifrin. Directed by Kurt Pongratz
A joy at any time of year, but especially wonderful at Christmas.
List of songs:
1 Introduction: Jingle Bells
2 José Carreras - Navidad
3 Diana Ross - Amazing Grace
4 Plácido Domingo - Wiegenlied
5 Diana Ross & José Carreras – The Little Drummer Boy
6 Plácido Domingo - The Gift of Love
8 Diana Ross & Plácido Domingo - White Christmas
9 José Carreras - Ave Maria (Schubert)
11 Diana Ross - It's the Most Wonderful Time of the Year
12 Plácido Domingo & José Carreras - Adeste fideles
13 Diana Ross - If We Hold on Together
14 Plácido Domingo, Diana Ross & José Carreras – Christmas Medley
15 Plácido Domingo, Diana Ross & José Carreras - Stille Nacht