---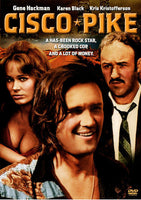 Sale
Cisco Pike DVD (Region 1 - Playable in North America - The US, Canada, Mexico, etc.) 1972 Color. Widescreen. Beautiful print.
Starring: Kris Kristofferson, Gene Hackman, Karen Black, Harry Dean Stanton, Roscoe Lee Browne, Viva, Joy Bang, Doug Sahm.

Just released from prison for drug-dealing, Cisco Pike (Kris Kristofferson) dreams of making a comeback. A once-famous rock singer, he finds his music contacts are more interested in his dope connections than his new songs. Pike's plans to go straight, however, go somewhat awry when he's blackmailed by a crooked narc (Gene Hackman) into selling $10,000 worth of stolen marijuana. Forced back into a business he thought he was out of, Pike drops in on friends, groupies and musicians as he tries to move a 100 kilo stash in just 53 hours. Co-starring Karen Black, Harry Dean Stanton, Doug Sahm, Joy Bang and Warhol superstar Viva!, Cisco Pike is a revealing look at the LA music scene of the early'70s, off-beat, unique and "surprisingly good. ***" (Leonard Maltin).
"NO WAY OUT FOR CISCO PIKE! He's trapped between the crooked cop and the impossible deadline."