---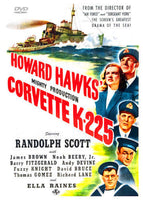 Sale
Corvette K-225 DVD (Region 1 - Playable in North America - The US, Canada, Mexico, etc.) 1943 Black & White.  
Starring: Randolph Scott, James Brown, Ella Raines, Noah Beery Jr., Barry Fitzgerald, Thomas Gomez.

The thrilling story of a Canadian WWII naval vessel, with a dramatic subplot concerning her first captain. In 1943, Lt. Commander McLain (Scott) has just lost his ship as well as two-thirds of his crew due to enemy action. He is allocated a new ship and while waiting for it to be built, befriends the sister of one of his dead officers. Things become somewhat complicated when one of the replacement officers turns out to be another brother. The brand new HMCS Donnacona is assigned to accompany a convoy of ships from Nova Scotia to England. Along the way the ship encounters many of the trials of war.

"From the director of "Air Force" and "Sergeant York"...the screen's greatest drama of the sea!"