---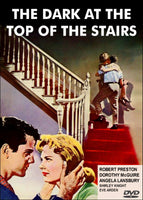 Sale
The Dark At The Top Of The Stairs DVD (Region 1 - Playable in North America - The US, Canada, Mexico, etc.) 1960 Full Frame. Color.
Starring: Robert Preston, Dorothy McGuire, Angela Lansbury, Shirley Knight, Eve Arden, Lee Kinsolving.
In Oklahoma in the 1920s,  Rubin Flood loses his salesman job. While searching for a new job, he must deal with his wife, Cora, who shuns intimacy and mistakes his joblessness for stinginess, his shy daughter who prepares for her first dance and his pre-teen son who runs to his mother instead of dealing with bullies. He tries to find comfort with a friend, Mavis Pruitt, thus setting off rumors of an untoward relationship. Based on William Inge's classic Tony-nominated Broadway play.
"No motion picture ever lit up so warmly! And no picture has ever unlocked a more secret door into the private shame and thrill of men and women!"