---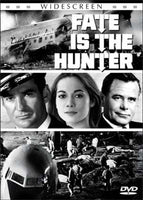 Sale
Fate Is The Hunter DVD (Region 1 - Playable in North America - The US, Canada, Mexico , etc.) 1964 Widescreen. Black & White.
Starring: Glenn Ford, Rod Taylor, Nancy Kwan, Suzanne Pleshette, Jane Russell.
From the best seller by Ernest K Gann (author of The High and The Mighty) Fate is the Hunter details a horrific airplane crash and, in its aftermath, the desperate attempt to discover what brought plane, passengers and crew to their fiery fate. Directed by Ralph Nelson, with superbly black-and-white cinematography by Milton Krasner, this combination of disaster movie and mystery interweaves the stories of a dogged investigator (Glenn Ford), the doomed pilot (Rod Taylor) , his bereaved girlfriend (Nancy Kwan), and the tragedy`s sole survivor (Suzanne Pleshette), building to a climax of breath-taking tension. An Aviation Classic!
"He played with death to prove a theory"