---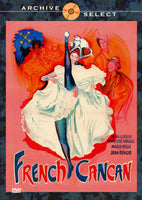 Jean Renoir's French Cancan DVD 1955 Color – print restored in 2010 by Laboratories Éclair and Gaumont. Shown in its original aspect ratio: 1.33:1 Approx. 99 min. (Region 1 - Playable in North America - The US, Canada, Mexico, etc.) In French with optional English subtitles. In beautifully restored Technicolor!

Starring: Jean Gabin, Maria Félix, Françoise Arnoul, Jean-Roger Caussimon, Michel Piccoli, Max Dalban, Gaston Modot, Valentine Tessier, Edith Piaf, Patachou, and the voice of Cora Vaucaire. Written and directed by Jean Renoir from an idea of André-Paul Antoine. Cinematography by Michel Kelber Choreography by G. Grandjean
In Paris in the 1890s, Henri Danglard (Jean Gabin) owns a night club where the star turn is a belly dance by his mistress Lola (María Félix). Going after the show one night to an old-fashioned dance hall in Montmartre, he sees people doing the cancan together and is struck by the suppleness and charm of a young laundry girl called Nini (Françoise Arnoul). He persuades her to take dancing lessons for a new venture he is planning. As his club has failed and Lola has left him, his idea is to open another place with a troupe of glamorous girls performing the cancan. Naming it the Moulin Rouge, its opening night is a thunderous success!