---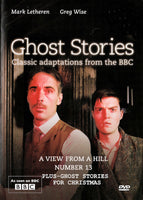 Ghost Stories from the BBC (2000/2005/2006) DVD Playable in North America – the US, Canada, Mexico, etc. Color with optional subtitles in English. Includes: "A VIEW FROM A HILL", "NUMBER 13", "GHOST STORIES FOR CHRISTMAS" with Christopher Lee.
UK | 2005 + 2006 | color | English language, with optional hard-of-hearing subtitles | 39 minutes + 40 minutes | Original aspect ratio 1.78:1 (16x9 anamorphic)
A View from a Hill (2005)
A film by Luke Watson
When young museum curator Fanshawe (Mark Letheren) is sent to catalogue a debt-laden squire's archaeological collection, he uses a pair of homemade binoculars borrowed from his genial host to survey local 'Gallows Hill'. The glasses seem to give him a strange new ability and, ignoring all warnings about their necromantic creator, Fanshawe carries out his historical researches. But the bloody past of the area is best left undisturbed - adapted from a short tale by M R James, the master of the English ghost story, "A View From a Hill" remains faithful in spirit to its literary creator and features an excellent lead performance from Mark Letheren.
Number 13 (2006)
A film by Pier Wilkie
Dissatisfied with his hotel room, Professor Anderson (Greg Wise) demands to be moved to number 12 where he can work undisturbed. But, infuriated by the noises made nightly by his neighbor, he is soon driven to investigate the diabolical secrets of the old hotel and its mysteriously vanishing room 13.
M R James' spooky tale was shot in the grounds and library of Winchester Cathedral, lending a rich period atmosphere to this terrifying adaptation.
Special features
Ghost Stories for Christmas with Christopher Lee - 'Number 13' by M R James (Eleanor Yule, 2000, 30 mins): Ronald Frame's adaptation is brought to life by horror maestro Christopher Lee