---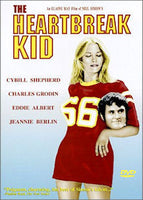 Sale
The Heartbreak Kid (1972) DVD (Region 1 - Playable in North America - The US, Canada, Mexico, etc.) Color. Widescreen.
Starring: Charles Grodin, Cybill Shepherd, Eddie Albert, Jeannie Berlin. Written by Neil Simon. Directed by Elaine May.
After her brilliant career in a comedy duo with Mike Nichols, Elaine May made tentative progress as a director, making only four films between 1971 and 1987 (her last being the disastrous but underrated Ishtar). Released in 1972, The Heartbreak Kid (from a screenplay by Neil Simon) is widely considered her best work from behind the camera, and it's still one of the most accomplished--but least recognized--comedies of the 1970s. Charles Grodin landed one of his best roles as Lenny, a newlywed husband who meets a gorgeous blonde (Cybill Shepherd) while on his honeymoon, and finds his new bride, Lila (played by May's daughter, Jeannie Berlin), unappealing by comparison. When Lila is forced to rest with a severe case of sunburn, Lenny's free to pursue his new interest, oblivious to the manipulative games that he'll soon be subjected to. May and screenwriter Simon draw plenty of pain, awkwardness, and embarrassment from hilarious situations, giving this comedy a perceptive awareness of human foibles and unchecked desires. It's a newlywed's worst nightmare come true, made enjoyable because we're watching it happen to someone else. Grodin's a prime choice of casting for expressing the movie's lusty anxiety--he's a schmuck, but you can still sympathize with the anguish he's brought on himself. A true comedy classic, vastly superior to the inferior remake.
"Elaine May Directed It. Neil Simon Wrote It. Bruce Jay Friedman Conceived It."