---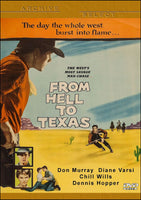 Sale
From Hell to Texas 1958 DVD (Region One - Playable in the US, Canada, Mexico, etc.) Color Widescreen Beautifully restored print!
Starring: Don Murray, Diane Varsi, Chill Wills, Dennis Hopper, R.G. Armstrong and Jay C. Flippen. Directed by Henry Hathaway.
From Hell to Texas stars Don Murray as a carefree cowpoke. Accidentally killing the son of a powerful land baron (R. G. Armstrong), Murray runs for his life, pursued by the dead man's vengeful brothers. The fugitive is sheltered by Chill Wills on his ranch. In love with Wills' daughter (Diane Varsi), Murray is concerned that he'll eventually have to leave when his pursuers catch up with him, but the boy is exonerated when he saves the life of the land baron's youngest son (Dennis Hopper). A superb piece of filmmaking from director Hathaway.
The West's Most Savage Man-Chase...From Hell To Texas!