---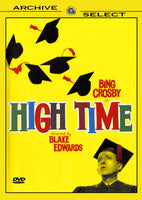 High Time  (1960) Color DVD Shown in original widescreen aspect ratio, enhanced for 16x9 televisions Approx. 102 Min. Playable in North America (the US, Canada, Mexico, etc.) Beautiful print!

Starring: Bing Crosby, Fabian, Tuesday Weld, Nicole Maurey, Richard Beymer, Patrick Adiarte, Jimmy Boyd, Yvonne Craig, Gavin MacLeod and Kenneth MacKenna Written by Frank Waldman and Tom Waldman, based on a story by Garson Kanin. Directed by Blake Edwards.
Wealthy restaurateur Harvey Howard (Bing Crosby), a self-made man, widower, and owner of Harvey Howard Smokehouses, decides to go back to college at the age of 51 and earn a bachelor's degree. He faces opposition from his snobbish grown children, as well as a generation gap between himself and his much-younger fellow students. The first day in school, he finds that just convincing older students, faculty, and administrators that he is serious is a humorous task. He enrolls and receives freshman rooming, and is up front about his determination to be "just another freshman". He's assigned a quad rooming arrangement, which sets precedent for the upcoming years - dealing with the student press, the dorm adviser, and making that first toast with sauerkraut juice to seal their bond to complete their four years together.
Songs by Henry Mancini, included in the score:
    High Time
    Moon Talk
    So Neat
    The Old College Try Cha-Cha
    The Nutty Professor
    Frish Frosh
    The Second Time Around
    A Mild Blast
    Harv's Blues
    New Blood
    The Dean Speaks
    Tiger!
All tracks are by Henri Mancini and performed by Henry Mancini and His Orchestra.
"Fabian and Tuesday Weld get Bing to go their way!"