---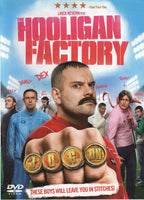 Hooligan Factory (plus "The Making of Hooligan Factory") 2014 Color Feature shown in its original aspect ratio: 2.35:1 (16:9) Feature approx. 86 min., plus "The Making of Hooligan Factory" 60 min. (Region 1 - Playable in North America - The US, Canada, Mexico, etc.) with optional English subtitles.

Starring: Jason Maza, Nick Nevern, Tom Burke, Ray Fearon, Steven O'Donnell, Morgan Watkins, Josef Altin, Leo Gregory, Keith-Lee Castle.  Written by Michael Lindley and Nick Nevern. Directed by Nick Nevern. Playable in the US, with optional English subtitles.

HOOLIGAN FACTORY tells the story of Danny (Jason Maza) who wants something more from life. Expelled from school and living in his grandfather's flat, he longs to live up to the image of his estranged father Danny Senior. Sent to prison for force feeding a judge his own 'syrup' Danny Senior was a legend and Danny is looking for a way to emulate his father's achievements and rise to be top boy.
Meanwhile legendary football hooligan Dexter (Nick Nevern) is about to be released from ShowerShank prison and is on a quest of his own, one of vengeance against his nemesis and rival firm leader The Baron. But when Danny's and Dexter's paths cross they embark on a journey as old as hooliganism itself. Dex, Danny and The Hooligan Factory travel the length of the country on a mission to re-establish their firm's glory days. However, the police are closing in and we get a sense that the Hooligan Factory's best days may be behind them, but with Danny on their side, and Dex finding his old form who knows where this may lead?
Special Feature: 1 hour making of HOOLIGAN FACTORY
After all, it's a funny old game.
Football Violence, So funny...it hurts. These boys will leave you in stitches!
Customer review: "Got this DVD because I am a fan of Tom Burke. Not for everybody, but fall-down hilarious and Tom was great!"