---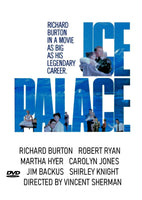 Ice Palace (1960) DVD Shown in original aspect ratio 1.78:1 Approx. 138 min. Region One - Playable in the US, Canada, Mexico, etc. Beautiful print!
Starring: Richard Burton, Robert Ryan, Carolyn Jones, Martha Hyer, Shirley Knight, Jim Backus, George Takei, Ray Danton, Diane McBain. Written by Harry Kleiner, based on the novel by Edna Ferber (who also gave us Giant, and Showboat), Music by Max Steiner, Directed by Vincent Sherman.
At the end of World War I, Zeb Kennedy (Richard Burton), a canner, and Thor Storm (Robert Ryan), a fishing boat captain, set up a fish cannery in Alaska and through the years find themselves on opposite sides of Alaska's bid for statehood. Zeb is determined to let nothing and no one stop him from building his business and gaining great wealth. At first Zeb and Thor's girlfriend, Birdie (Carolyn Jones), are only good friends. But even though Zeb and Birdie fall in love, Zeb remains devoted to his greater love: money. Zeb goes off to Seattle to find money for his business. There he marries Dorothy (Martha Hyer), the heir to his former employer. When Dorothy and Thor find out that Zeb and Birdie are secret lovers, Thor attacks Zeb, knocking him out. His friendship with Zeb ended, Thor heads off into the Alaskan wilderness, where he is rescued by an Eskimo family. There, Thor begins to work for Alaskan statehood, while Zeb works to advance himself through his business.
Filmed in Juneau, Fairbanks and Petersburg, Alaska.
"Mighty Drama of Men Who Came Out of the Wilderness...And the Women Who Tamed Them!"
ALASKA
Wild and wide are my borders, stern as death is my sway,
And I wait for the men who will win me — and I will not be won in a day;
And I will not be won by weaklings, subtle, suave and mild,
But by men with the hearts of Vikings, and the simple faith of a child.
Robert W. Service