---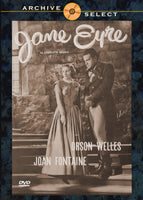 Jane Eyre 1944 (DVD) Black and white Shown in original aspect ratio (4:3) With optional English subtitles. Approx. 97 min. Playable in North America – the US, Canada, Mexico, etc.
Starring: Orson Welles, Joan Fontaine, Margaret O'Brien, Peggy Ann Garner, John Sutton, Sara Allgood, Henry Daniell, Agnes Moorehead, Aubrey Mather, Edith Barrett, Barbara Everest, Hillary Brooke. Written by Aldous Huxley, Robert Stevenson, John Houseman, Ketti Frings, Henry Koster based on the novel "Jane Eyre" by Charlotte Brontë. Music by Bernard Herrmann. Cinematography by George Barnes. Directed by Robert Stevenson
Orson Welles stars as Edward Rochester, the brooding employer of governess Jane Eyre in this adaptation of Charlotte Brontë's novel. Young Jane slowly frees Edward from his self-imposed prison, but his troubled past stands in the way of their love.
Jane Eyre: "My name is Jane Eyre... I was born in 1820, a harsh time of change in England. Money and position seemed all that mattered. Charity was a cold and disagreeable word. Religion too often wore a mask of bigotry and cruelty. There was no proper place for the poor or the unfortunate. I had no father or mother, brother or sister. As a child I lived with my aunt, Mrs. Reed of Gateshead Hall. I do not remember that she ever spoke one kind word to me."
Thus begins one of the most acclaimed romance novels of all time – "Jane Eyre" by Charlotte Bronte.