---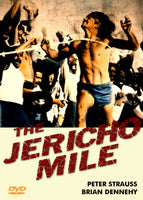 Sale
The Jericho Mile 1979 DVD (Region 1 - Playable in North America - The US, Canada, Mexico, etc.) Color.
Starring: Peter Strauss, Brian Dennehy, Roger E. Mosley, Geoffrey Lewis. Directed by Michael Mann.
Rain Murphy (Peter Strauss) is a man sentenced to life in prison, choosing to do his time in near-isolation, and engages in distance running when given the opportunity for free-time. While his form and speed capture the attention of prison officials who believe he could be competitive for the Olympics, Murphy expresses disinterest. But when the one man he has befriended is taken advantage of by political groups within the prison, Murphy decides to pursue the opportunity presented to him in his memory. This action not only has profound changes on him, but also on the atmosphere of the inmates in the prison and their outlook on the accomplishments he can make. Filmed on location at Folsom Prison. One of the best TV movies ever made, directed by the brilliant Michael Mann.
"He is running for his freedom... and his life."