---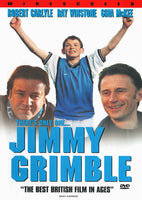 Sale
There's Only One Jimmy Grimble (Jimmy Grimble) (2000) Color Widescreen (1.85:1) Playable in North America (US, Canada, Mexico, etc.) Approx. 101 min. Beautiful picture and sound - digitally mastered. SPECIAL FEATURES: Commentary, Featurette, Interactive Menu, Scene Access, Trailer, Behind the Scenes
Starring: Robert Carlyle, Lewis McKenzie, Ray Winstone, Jane Lapotaire, Gina McKee, Ben Miller, Samia Ghadie, John Henshaw, Bobby Power Written by Rik Carmichael, Simon Mayle, John Hay Directed by John Hay.
Jimmy Grimble (Lewis McKenzie ) would do anything to become a football pro but a lack of self-confidence on the pitch is standing between him and his childhood dream. His misery is compounded when his mother (Gina McKee) invites her latest moronic boyfriend to move in rather than the man she really wants, Harry (Ray Winstone). However, Jimmy's luck changes when he meets a mysterious old bag lady (Jane Lapotaire) who gives him a pair of magic football boots. And although skeptical at first, it's not long before Jimmy is scoring hat tricks and even managing to help his coach (Robert Carlyle) to rediscover his passion for the game. But just before kick off on the day of the school cup final the boots go missing. Will Jimmy's confidence desert him or will his supporters be singing, "there's only one Jimmy Grimble" in the end?
SCREENED/AWARDED AT: Berlin International Film Festival, British Independent Film Awards.