---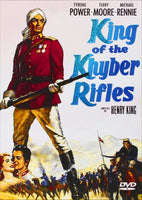 Sale
King of the Khyber Rifles 1953 DVD (Region 1 - Playable in North America - The US, Canada, Mexico, etc.) Widescreen. Color.
Starring: Tyrone Power, Terry Moore, Michael Rennie, John Justin. Directed by Henry King.
Set in colonial India in 1857, Tyrone Power stars as British army officer Captain King. Sent to the threatened garrison post of Peshawar he is shunned by his fellow officers because he is half Indian. The goodwill of his commanding officer, General Maitland (Michael Rennie), is further tested when the General s daughter, Susan (Terry Moore), falls in love with him. Ordered to train the fierce, native Khyber Riflemen into an efficient fighting regiment, King is driven to prove his loyalty to the Crown by quelling a brutal uprising that is led by his Indian boyhood friend (Guy Rolfe). King s first fight, however, will be to win the respect of the men of the Khyber Rifles.  A classic action adventure by legendary Hollywood director Henry King (The Black Swan, The Gunfighter, Twelve O'Clock High)
"GREAT ADVENTURE OF INDIA!"