---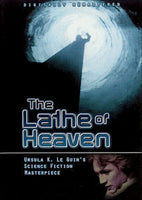 Sale
The Lathe of Heaven DVD (Region 1 - Playable in North America - The US, Canada, Mexico, etc.) 1980. Color.
Starring: Bruce Davison, Peyton E. Park, Niki Flacks, Kevin Conway, Vandi Clark, Margaret Avery.
This haunting adaptation of Ursula K. Le Guin's genre-classic novel was broadcast but once on PBS in 1980. Reportedly PBS's most requested program, the made-for-TV film was at last rebroadcast in 2000. Set in Portland, Oregon, in the near future, The Lathe of Heaven stars Bruce Davison as George Orr, who, to put it mildly, has a dream problem. Not only do his dreams come true, but they "change reality back to the Stone Age."
Kevin Conway costars as Dr. Haber, a dream specialist who instantly recognizes George's gift and tries to harness it to make the whole world right. But, as George notes, "Unlimited power means unlimited danger." The increasingly megalomaniacal Haber uses George to try to cure the world's ills, from overpopulation to war, resulting in, for starters, a devastating plague and even alien invasion.
"From the brilliant novel by Ursula K. Le Guin."