---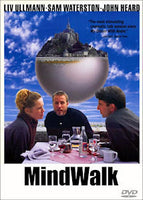 Sale
Mindwalk 1990 DVD (Region 1 - Playable in North America - The US, Canada, Mexico, etc.) Color. Full Frame.
Starring: Sam Waterston, Liv Ullmann, John Heard.

Movie based on ideas from Fritjof Capra's book entitled 'The Turning Point'.

A US politician visits his poet friend in Mont. St. Michael, France. While walking through the medieval island discussing their philosophies of life they happen upon Sonia, a scientist in recluse, who joins in their conversation. The two men listen to the ideas of this brilliant woman and discuss how her ideas can work in their own politician and poet lives.
Each is suffering misgivings about pivotal life choices; Sonia questions the role of ethics in her work, Jack harbors fears over the government's attitude toward the environment, and Thomas' wariness over an increasingly conservative society has prompted a permanent move to France. The question haunting all three: What now?
"Ullmann, Waterston and Heard are such expert actors that they're able to bend the script's seeming didacticism: Ullmann by a quiet intensity that recalls her best roles for Ingmar Bergman; Waterston by a halting, gravelly, almost ingenuous phrasing that suggests Jerry Brown trying to be Jimmy Stewart; and Heard by a flow of spontaneous wisecracks." - The Los Angeles Times
"A film for passionate thinkers."