---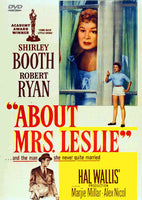 Sale
About Mrs. Leslie 1954 DVD (Region 1 playable in North America - The US, Canada, Mexico, etc.) Black & White.
Starring: Shirley Booth, Robert Ryan, Marjie Millar.
Vivien (Shirley Booth) runs a boarding house for young women. Through a series of flashbacks, she details the adventures of her life. Vivien was born poor, but escapes her home by becoming a cabaret singer. She meets George Leslie (Robert Ryan), who is a very private man, but the two get to know each other and begin a passionate affair. One night at the movies, Vivien sees George in the newsreel and learns he is actually a wealthy -- and married -- industrialist.

"...and the man she never quite married"