---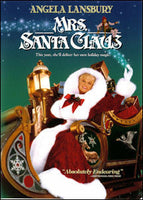 Sale
Mrs. Santa Claus 1996 DVD (Region 1 - Playable in North America - The US, Canada, Mexico, etc.) Color.
Starring: Angela Lansbury, Charles Durning, Michael Jeter, Terrence Mann, Linsey Bartilson, Bryan Murray.
Much closer to Hello, Dolly! than your usual Christmas special, Mrs. Santa Claus joins two distinct genres: holiday family fare and the Broadway musical. This song-studded extravaganza was especially designed for TV by Broadway legend Jerry Herman, whose songs are just as incorrigibly catchy on the small screen as they are on the stage. Herman uses one of his favorite leading ladies from the theater, Angela Lansbury, in a tale of Santa's "invisible wife," who takes the reindeer off for an impulsive week-long adventure in New York City. Unexpectedly becoming a suffragette and labor organizer (it's set in the early 20th century), Mrs. Claus twinkles merrily at all who cross her path. The costumes are by Bob Mackie, the choreography by Chicago director Rob Marshall. And just try to get the melodies out of your head.