---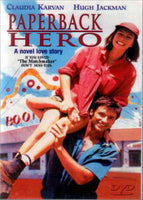 Sale
Paperback Hero 1999 DVD (Region 1 - playable in North America - The US, Canada, Mexico, etc.) Color.
Starring: Hugh Jackman, Claudia Karvan, Angie Milliken, Andrew S. Gilbert.

Country truck driver Jack Willis (Hugh Jackman) has written a romance novel. Fearing ridicule from his mates, Jack uses a pen-name, that of his long-time friend Ruby Vale (Claudia Karvan), a local crop-dusting pilot and café owner (inherited both from her dad.) Trouble brews for Jack when he lands a book deal with a publisher who sends out a vivacious publicist to convince their new novelist to come to Sydney for the promotion of 'her' new book. Jack asks Ruby to take his place, as a favor. The publisher's offer to pay for Ruby's wedding to local vet Hamish (Andrew Gilbert) convinces her that the favor is worthwhile. Jack realises that he can't permit the high-spirited Ruby to run amuck in Sydney in her new role as romance writer, so he decides to escort her as her manager. Their friendly relationship begins to take unexpected turns. A dazzling screen debut by the dazzling Mr. Jackman!
"He's hard, tough ... and doesn't give a XXXX for anything ... except romantic novels"