---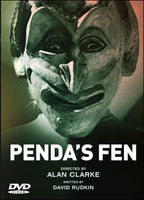 Sale
Penda's Fen (1974) BBC DVD Region One (Playable in North America - The US, Canada, Mexico, etc.) Color Approx. 90 min. Newly remastered in High Definition. Close captioned.
Starring: Spencer Banks, Jennie Hesselwood, Ian Hogg, Georgine Anderson and John Atkinson. Written by David Rudkin. A film by Alan Clarke.
Originally shown on BBC1 in 1974 and rarely seen since, Penda's Fen has become the stuff of legend, its name invoking the spirit of a time when television had the power to provoke and astound.
Exploring theme of personal and national identity, language, history and industrial progress, this unclassifiable drama boldly weaves its exquisite, fantastical imagery with the rousing music of Elgar to tell a tale of ancient legends and sexual awakening which stands as one of British television's greatest ever achievements.
Released for the first time on DVD, this astonishing work from Alan Clarke (Scum, The Firm and Rita, Sue and Bob Too) has been newly transferred in High Definition, and is presented here with a newly created documentary featuring interviews with its writer David Rudkin and producer David Rose.
Special features:
The Landscape of Feelings: The road to Penda's Fen (2016, 16 mins): new documentary on the making of Rudkin and Clarke's groundbreaking drama, featuring an interview with David Rudkin and producer David Rose, as well as contributions from Clarke collaborators such as writer David Yallop, actor Sean Chapman and playwright David Leland
"Make no mistake. We had a major work of television last night. Rudkin gave us something that had beauty, imagination and depth." – The Times (Leonard Buckley)
"One of the great visionary works of English film" – Vertigo
"…multi-layered reading of contemporary society and its personal, social, sexual, psychic and metaphysical fault lines. Fusing Elgar's 'Dream of Gerontius' with a heightened socialism of vibrantly localist empathy, and pagan belief systems with pre-Norman histories and a seriously committed – and prescient – ecological awareness, 'Penda's Fen' is a unique and important statement." Time Out