---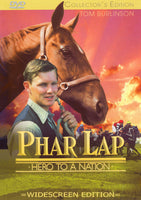 Sale
Phar Lap DVD (1983) Region 1. (Playable in North America - The US, Canada, Mexico, etc.) Extended Director's Cut. Widescreen. Color.
Starring: Tom Burlinson, Ron Liebman, Martin Vaughan, (Towering Inferno as Phar Lap).

Phar Lap, the big bold chestnut reigned as the king of the turf in the depression gripped Australia of the 1930s. From his humble beginnings the New Zealand bred horse raced on to become the hero of a nation. Strapper Tommy Woodstock's life becomes intertwined with that of his charge and the true saga that followed is triumphant and heartbreaking.
Editor: "We have two versions ready to go. If he wins, 'Australian wonder horse beats the world.' "
Writer: "And if he loses?"
Editor: "New Zealand horse fails in Mexico."