---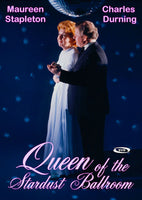 Sale
Queen of the Stardust Ballroom (1975) DVD (Playable in North America - The US, Canada, Mexico, etc.) Color.
Starring: Maureen Stapleton, Charles Durning, Michael Brandon, Michael Strong, Charlotte Rae.
A striking, Emmy Award-winning drama about a suddenly widowed housewife, Bea Asher (Maureen Stapleton) who struggles with her new and uncertain position in life. She discovers a new life and companionship at a local ballroom where she meets mail carrier Alvin Green (Charles Durning) who becomes her regular dance partner and tender friend. Alvin gives her the courage to pick up the pieces of her life and begin to live anew. Both Stapleton and Durning received Emmy nominations. Sam O'Steen received the Directors Guild of America Award for Outstanding Directorial Achievement in Specials and Jerome Kass won the Writers Guild of America Award for his teleplay.
"Bravo to Stapleton and Durning for this one! Bravo!"