---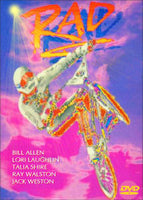 Sale
Rad DVD (Region 1 - Playable in North America - The US, Canada, Mexico, etc.) 1986 Color.
Starring: Bill Allen, Lori Loughlin, Talia Shire, Ray Walston, Jack Weston.
Cru Jones is the best BMX biker in Cochrane. He's got the talent to become the best BMX daredevil in the world. As the local paperboy, he jumps, spins, twists, and flips his bike with amazing ability. Bart Cochran is the current champion BMX biker in the world and he's in town to race in the $100,000 Helltrack competition, the most grueling BMX race in history. Cru wants a shot at the winning title, but his mom insists he take his college entrance exams which are scheduled for the same day as the race. For the first time in his life, Cru must make his own decisions - but the local race promoter has a dirty scheme for keeping the local whiz kid out of the way of his prized champion. Digitally-Mastered. The high energy BMX classic of all time!
"It's going to take a lot more than skill for Cru Jones to conquer the toughest BMX challenge in the world. It's going to take a miracle."